Recent Launch : Exam Ref DA 100 Analyzing data with Microsoft Power BI
Exam Ref 70 778 Analyzing Data with Microsoft Power BI is one of the sought books when Microsoft Power BI Official certification was named as Exam 70-778. The book was written by Daniil Maslyuk.
When Microsoft changed the syllabus and renamed the Microsoft Power BI Official Certification as DA 100, then exam takers were looking for a book for preparation but unfortunately, there wasn't any book except few online courses but it was difficult to decide whether course completion would guarantee syllabus completion or not.
Microsoft Power BI is the most demanding analytics tool in the market. As per Gartner`s Magic Quadrant for Analytics and Business Analytics Platform, Microsoft Power BI is the leader in the segment. You can check out the last 3 years' ranking
here
.
With the increase in demand for Power BI, people learning the tool is increasing exponentially. A lot of people are looking for books to learn Power BI. So let's see the best book for PowerBI.
The Best books for PowerBI is The Definitive Guide to DAX and Mastering Microsoft PowerBI. The Definitive Guide to DAX is the best book for learning DAX which is very essential to know while working on Microsoft PowerBI apart from that Mastering Microsoft PowerBI is a complete package that gives information about all the components related to PowerBI which is also essential and non-negotiable.
Apart from the two books mentioned above, there are some other books as well which are also very helpful in learning PowerBI.  So let`s check them out in the below list.
So, let's review each of the books below in great detail:



Mastering Microsoft Power BI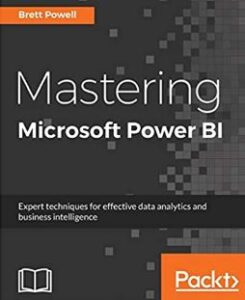 Mastering Microsoft Power BI is a complete reference for learning power bi. It gives you an overall knowledge of the product as a whole. It covers topics
Efficient data connectivity, retrieval, and data 

transformation

 using M Query.

Explains about Direct Query, Import Connection, and Live Connection

Making rich and Interactive Dashboards and reports.

Make a complete on-premise solution with a Report Server.

Gateways  – On-premise Gateways and Personal Gateway.

 Creating apps and their distribution.

Managing 

Workspace
SSAS to Azure AS Migration
PowerBI Admin Portal 
DAX
Basically, This book covers all the topics which you need to master Microsoft Power BI. I recommend this book to a person who is 
interested
 to learn all the 
components
 associated with Microsoft Power BI. This book is a complete package.
This book is written by Brett Powell who has also written a book Microsoft  PowerBI Cookbook which is also included in this list.
The Definitive Guide to DAX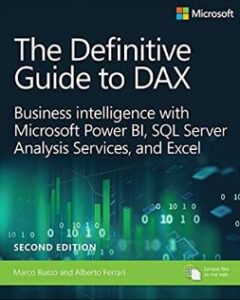 The Definitive Guide to Dax is a great book for learning DAX Languages, which is essential for getting the most out of Microsoft Power BI. Without DAX, You cannot bring good insight from your raw data. So DAX is an important language that you cannot skip learning, and to learn it, there is no better book than The Definitive Guide to DAX.


Who wrote this book?
Marco Russo and Alberto Ferrari have written the book. They are the owner of the SQLBI website and also some of the other sites like Daxformatter, Daxpattern, etc. Their work in the field of Microsoft technologies such as PowerBI, Excel, DAX is just outstanding. I have also mentioned their Introduction to DAX Video Course in my article Best Resources to learn DAX.


Microsoft Power BI Cookbook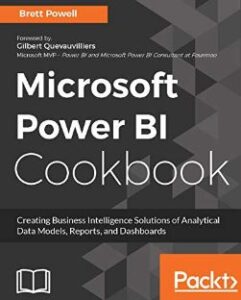 Microsoft Power BI Cookbook
is a great book for learning Power BI overall. This book has tips and tricks, practical use cases, technical recipes related to complete power bi platform including Power BI Service and Mobile Application.
In the book, you will get knowledge about Power Query, M language, Data Modelling, DAX Expression, Understanding the difference between Import, direct query, and live connection, how to publishing to power bi service, and schedule refresh, gateways, and its type. This book will cover all the components associated with Microsoft PowerBI.
Who wrote this book?
The book is written by Brett Powell who also owns Frontline Analytics and has previously worked with multiple analytics companies. He has written two books on Microsoft Power BI.
Supercharge Power BI is a great book for learning DAX. I found their approach to explaining concepts more practical. It's a great book for the beginner as each and every step is explained in the book with the help of a screenshot so that anyone can understand the concept easily.
I recommend you to please go through this book, you will definitely like it. To check the book`s initial pages, you can go to
Amazon
, click on Look Inside above the Image of the Book.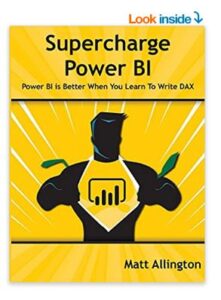 Who wrote this book?
This book is written by Matt Allington who also owns the Excelerator BI website which provides Online Courses related to PowerBI. I am a regular visitor to his site and always loved the blog posted by Matt. I suggest you read his blog and as well his book. 
Data Analysis with Microsoft Power BI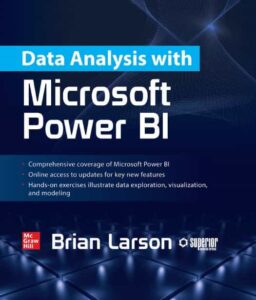 What I loved about the book is the practical step by step approach to explaining a topic. This book has explained all the topics in a very easy language so that anyone can understand the topic very easily.
I would definitely recommend this book to someone who is looking for a book with an easy explanation.
The book has described Data loading, Data preparation, Data Modelling, and Visualization using various graphs and charts in a very practical manner using a screenshot from the Power BI Desktop.
Who wrote this book?
The book is written by Brian Larson is the chief creative officer and partner at Superior Consulting Service and also a frequent presenter at SQL Saturdays and Pass Summit. He is also a columnist at SQL Server Magazine. This book is published by McGraw Hill Education. 
Final Thoughts
I have written this article after much research and past experience. During the preparation phase of the article, I have gone through a lot of books related to Power BI but I have suggested only those books which provided valuable information and have explained the topic in an easy and step by manner for better understanding.