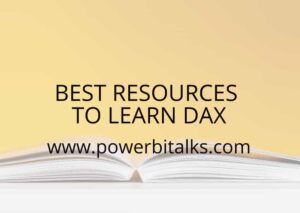 I was sitting here in my home thinking what to write for my next article on my blog. I thought about what could be most helpful for my readers. When I was in my initial learning days I found that DAX is the most important language in PowerBI. With the help of DAX, you can get the most out of the PowerBI.
In this article, I will be helping you by providing the best resources to learn DAX. Well, Best Choice varies from person to person but still, there are always a few important resources that can not be neglected.
If you ask me, What are the best resources to learn DAX?
Introduction to DAX Video Course

The Definitive Guide to DAX

DAX Fridays
Microsoft Power BI Community
Introduction to DAX Video Course – SQLBI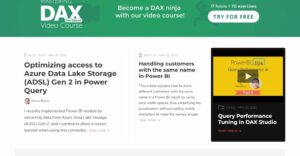 The Introduction to the DAX Video Course is provided by SQLBI. SQLBI is run by Marco Russo and Alberto Ferrari. They have expertise is DAX and providing a lot of valuable content on www.sqlbi.com.
The Introduction to DAX Video Course is free of Cost and very valuable for beginners.
You can get the access to DAX Video Course by clicking
here
.
They also offer a lot of paid Video Courses as well so if you are interested you can check out SQLBI. You will not regret it even if you pay for their courses.
The Definitive Guide to DAX

If you ask me what is the ultimate resource to learn DAX then I will recommend this book. This book is amazing and extremely helpful. Every topic is explained in this book is explained with the help of the example so that it's easy to understand.
The Definitive Guide to DAX is written by Marco Russo and Alberto Ferrari who are also founder of SQLBI.
I recommend you to learn the context transition topic from this book as it is explained very beautifully in this book.
You can get this book on Amazon by clicking on the link.
DAX Fridays
Curbal has been one of my favorites Youtube Channel for learning Microsoft Power BI. DAX Fridays is an initiative from Curbal Youtube Channel by posting videos every Friday explaining the DAX Function with the help of Example.
Now, almost every DAX function has been explained by her. You can check out her videos as they are very useful and interesting.
Curbal Youtube Channel has videos all around PowerBI. You can learn Data Modelling, M Query, and Power BI Functionality in her Channel.
Microsoft Power BI Community

You must be wondering how does Microsoft Power BI Community helps us in learning DAX. Does it provide any articles related to DAX?
The answer is NO.
An important aspect of learning is not only to read books or articles. The most important thing is to practice. If you don`t practice then your learning will be useless and you will soon forget everything.
So, You must be thinking that Where can I practice DAX after reading all the articles and watching all the Videos?
You can practice DAX while working on a report in your project but sometimes the scenario which we use in reports is very straight forward, easy and we are not able to use all the formulas which we have learned through our reading.
For Example, Let suppose you are working on a report where you have to find some count of the record later filter it based on some dimension column and you are getting almost similar kind of scenario in your project than what will you do? Will, you just wait and time will pass and you will not able to learn anything.
The Best way to practice DAX is to go to Microsoft PowerBI Community which is an excellent place to help people with DAX and other Power BI-related problems and increase our learning. There are various forums where we can go and find the problem asked by people from all over the world.
Below are some of the Categories in Microsoft Power BI Community
Desktop
Service
Report Server
Power Query
Mobile Apps
Developer
DAX Commands and Tips
You can go directly to DAX Commands and Tips Section and find appropriate Question which you can answer and help other fellow Power BI developers.
In fact, I have recently started a DIY article series on my blog where I solve a problem using DAX in a step by step manner so that reader can follow along with me and practice on his/her own. I have learned a lot by helping people in this section in Microsoft Power BI Community.
How to format the DAX Code?
Dax Formatter is an online tool provided by SQLBI which is very useful and beautifies your dax code in an elegant manner. Formatting DAX code is extremely important for easy reading and as per best practices.

Using DAX FORMATTER is very easy, You just have to copy your DAX Code from Power BI and paster it into the space provided and just by pressing in FORMAT button. Your nonaligned dax code gets aligned properly.
Later, You can copy it and paste it in Power BI in order to maintain best practices. Even it provides HTML code so that you can copy DAX code in HTML Web Pages.
I hope the article provided value and helped you in your journey to learn DAX and Power BI. You can comment and share the article with your friends.