Seamlessly Connected: Embrace the Future with Microsoft Fabric
Microsoft Fabric is a comprehensive analytics platform for businesses that includes features for data science, business intelligence, real-time analytics, and data migration. It provides a full range of services in one location, including data lake, data engineering, and data integration.
You no longer have to patch together various services from various vendors when using Fabric. Instead, you can benefit from a fully integrated, all-encompassing, and user-friendly platform that is created to make your analytics needs simpler.
Software as a Service (SaaS), which raises the bar for simplicity and integration, serves as the platform's structural base.
Features of Microsoft Fabric
Some of the features of Microsoft Fabric are mentioned below.
Unified Data Foundation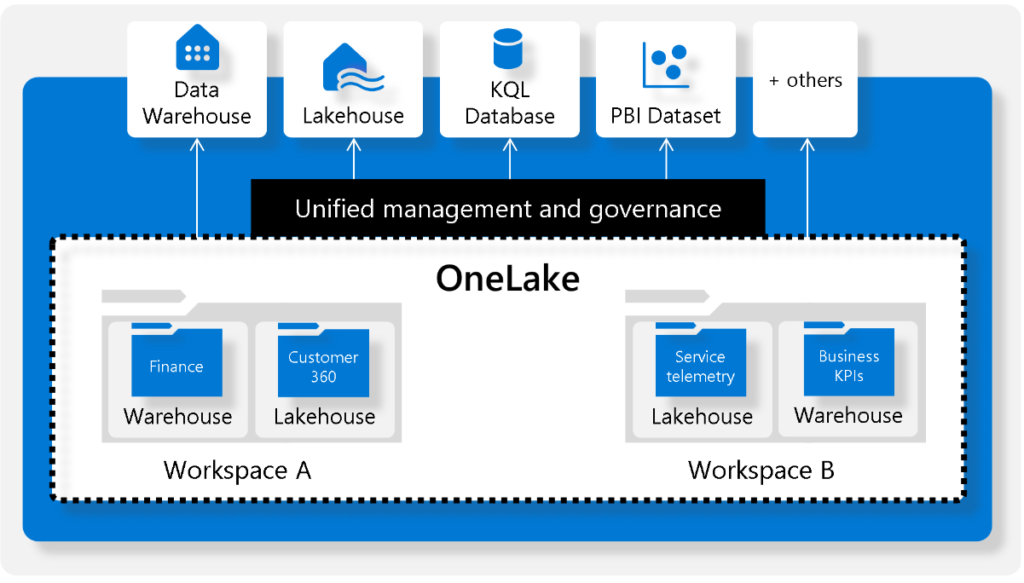 For the entire organization, OneLake is a single, unified, logical data lake. Every Microsoft Fabric tenant automatically includes OneLake, which is intended to be the central repository for all of your analytics data.
The advantage of centralized data lake for each tenant is one copy of data can be used with multiple analytical engine.
Role Tailored Tools
Give each job a set of individualized analytics tools so they can provide real-time information on their own.
AI Powered Capabilities
Utilize a variety of AI technologies offered by Copilot in Microsoft Fabric to quickly understand data and produce Azure OpenAI experiences.
Open and Governed Foundation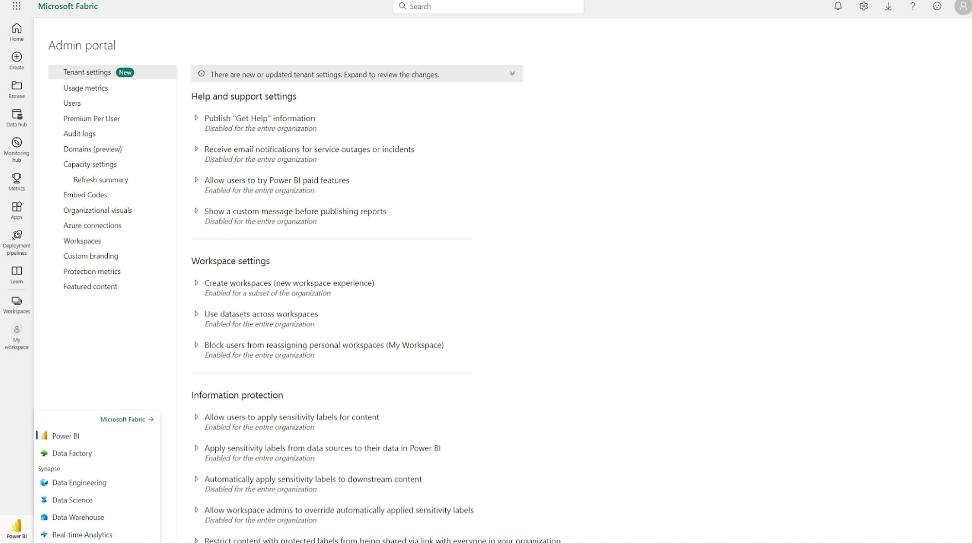 Connect to an open, regulated, and scalable basis with your critical clouds and analytics services.
Cost Management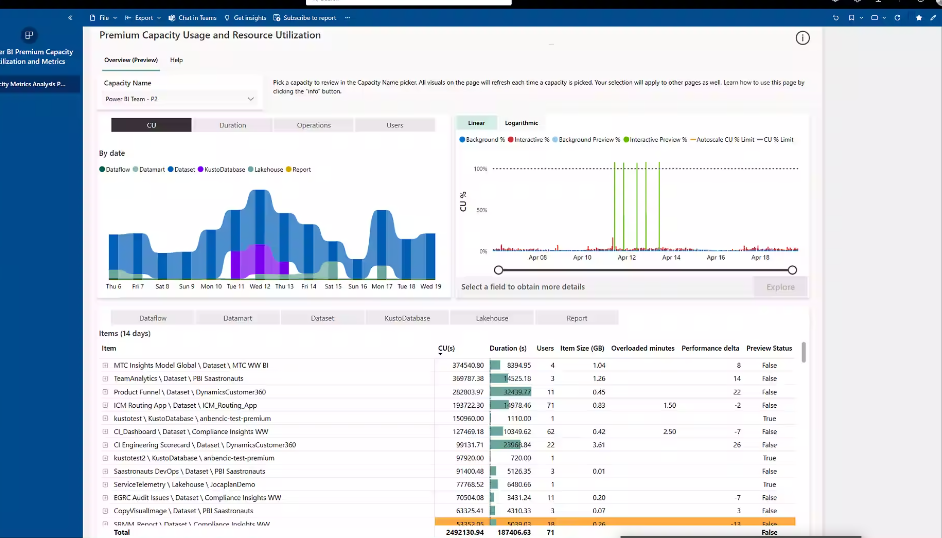 Simplify cost management by utilising billing units that assist your organisation in understanding and tracking service usage—plus, pay for all solutions in a single bill.
Components of Microsoft Fabric
Microsoft Fabric provides a complete collection of analytics experiences that are built to function in tandem. Each experience is tailored to a certain character and job. For an end-to-end analytical need, Fabric provides industry-leading experiences in the following categories.
Data Engineering
Data engineers can do large-scale data transformation and democratise data through the lakehouse thanks to the world-class Spark platform that Data Engineering expertise offers. Data Factory's connection with Microsoft Fabric Spark makes it possible to plan and coordinate notebooks and spark tasks.
Microsoft Fabric offers a range of data engineering tools to guarantee that your data is high-quality, easily accessible, and organized. Using Microsoft Fabric data engineering, you can:
Utilise a lakehouse to create and manage your data.
Create data transfer pipes for your lakehouse.
To submit batch or streaming jobs to the Spark cluster, use the Spark Job definitions.
Write data intake, preparation, and transformation code in notebooks.
Data Factory
You can ingest, prepare, and convert data from a wide range of data sources, including databases, data warehouses, Lakehouse, real-time data, and more, thanks to Data Factory's contemporary data integration expertise. Whether you are a regular person or a professional developer, you will be able to use sophisticated transformations and a wide range of actions to change the data.
We are introducing quick copy (data transfer) capabilities to both dataflows and data pipelines with Data Factory in Microsoft Fabric. You can transport data across your preferred data storage incredibly quickly using Fast Copy.
Dataflows and pipelines are the two main high-level functionality that Data Factory implements.
Dataflows provide you access to more than 300 transformations in the dataflows designer, making it simpler and more flexible than ever before to convert data, including intelligent AI-based data transformations.
By using data pipelines, you can create customizable data processes that match your company needs by using the out-of-the-box comprehensive data orchestration features.
Data Science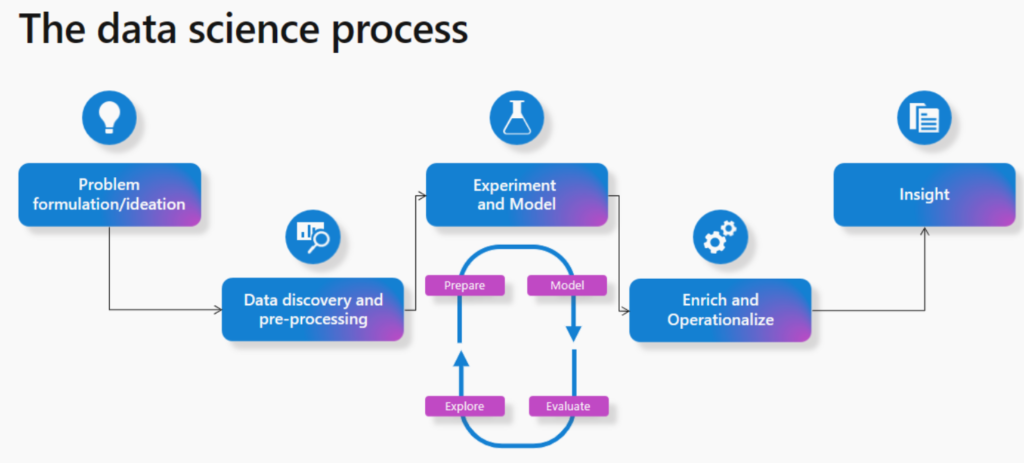 In order to enable customers to complete end-to-end data science processes for the purposes of data enrichment and business insights, Microsoft Fabric delivers data science experiences.
Throughout the whole data science process, a variety of tasks may be completed, including data exploration, preparation, and purification, experimentation, modelling, model scoring, and delivering of predicted insights to BI reports.
Data Warehousing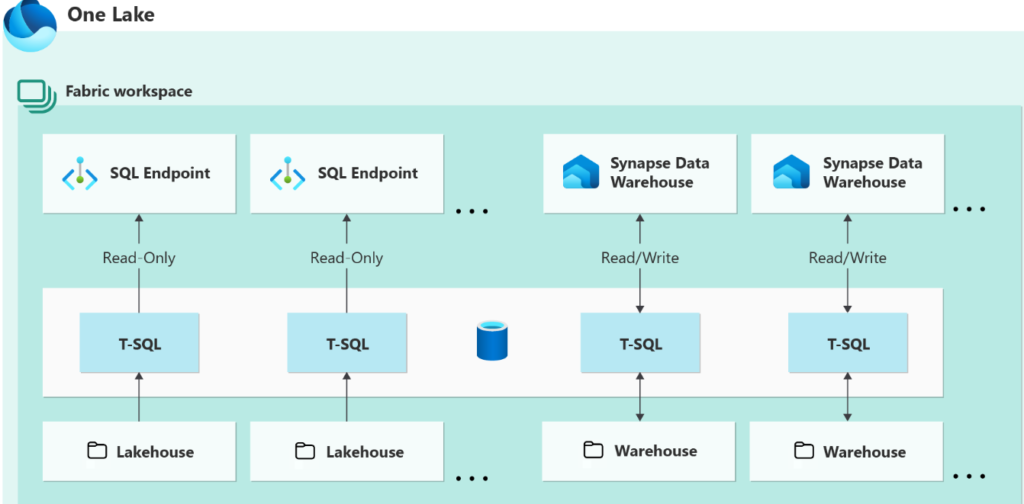 Microsoft Fabric offers companies a comprehensive, SaaS-ified Data, Analytics, and AI platform that is lake centric and open, addressing every part of their data estate.
The Microsoft Fabric platform provides a comprehensive, user-friendly shared SaaS experience with Microsoft OneLake as its focal point, enabling everyone from novice users to seasoned professionals to access Database, Analytics, Messaging, Data Integration, and Business Intelligence workloads.
Real Time Analytics
Real-Time Analytics is a big data analytics platform that is completely controlled and tailored for streaming and time-series data. For finding organised, semi-structured, and unstructured data, it makes use of a query language and engine with excellent performance.
Real-Time Analytics is completely integrated with the whole Fabric product line, including scenarios for sophisticated visualisation as well as data loading and transformation.
Power BI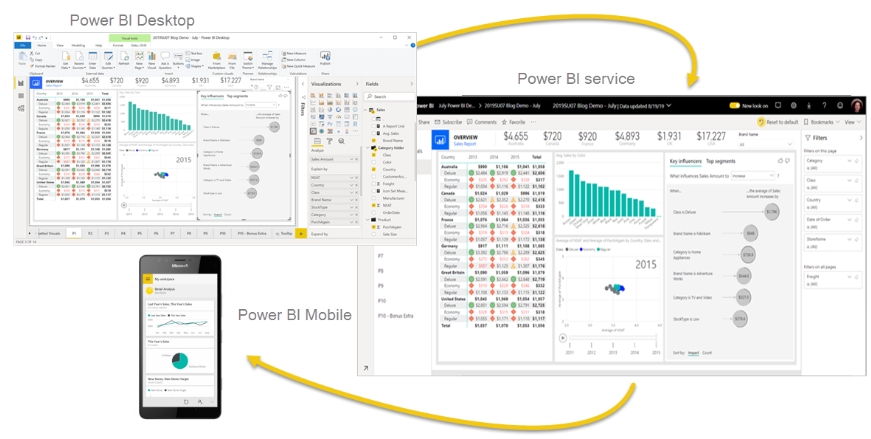 Power BI is a group of software services, applications, and connections that combine to transform your disparate data sources into coherent, engaging visuals, and interactive insights. Your data may be stored in a hybrid data warehouse that is both cloud-based and on-premises, or it may be an Excel spreadsheet.
Power BI makes it simple to connect to your data sources, visualize the data, identify the key information, and share it with whoever you choose.