Understand Microsoft Fabric Licenses – Pricing & Cost
After the launch of Microsoft Fabric, which is an data analytics platform which includes bunch of tools such as Synapse, Power BI, Data Factory that allows users to perform data engineering, data science and analytics task without worrying about data volume.
It is important to understand the how much you would need to to pay for using the Fabric component and how Microsoft fabric licensing would be different from the Microsoft Power BI Licenses.
To know more about the component of Microsoft Fabric, please read the article.
Before deep diving into the Microsoft Licenses, it is important to know about the Microsoft Fabric Capacity Structure.
What is Microsoft Fabric Capacity Structure?
You must first comprehend the Capacity structure in order to grasp Microsoft Fabric's licencing. Tenant, Capacity, and Workspace are the three key categories that Fabric's material may be arranged into.
Tenant
Each tenant is assigned a unique Domain Name System (DNS). When you purchase a capacity, your tenant is created, and after that, you may add more capacities. Each domain can have one or multiple tenants.
Capacity
Each tenant might have a single or numerous capabilities. Each capacity is a resource pool that may be utilized to provide Microsoft Fabric services.
Review the capacity and SKUs section below before purchasing Microsoft Fabric to determine whether capacity is appropriate for your organization.
Workspace
Workspaces are containers for Microsoft Fabric things that live within capacity. My Workspace is a personal workspace that each Microsoft Fabric user possesses. More collaborative workplaces can be developed.
For example, you will create Lakehouse, Data Pipeline, and Dataflow inside a workspace, and you can share them with the rest of the developer team.
SKU and Pricing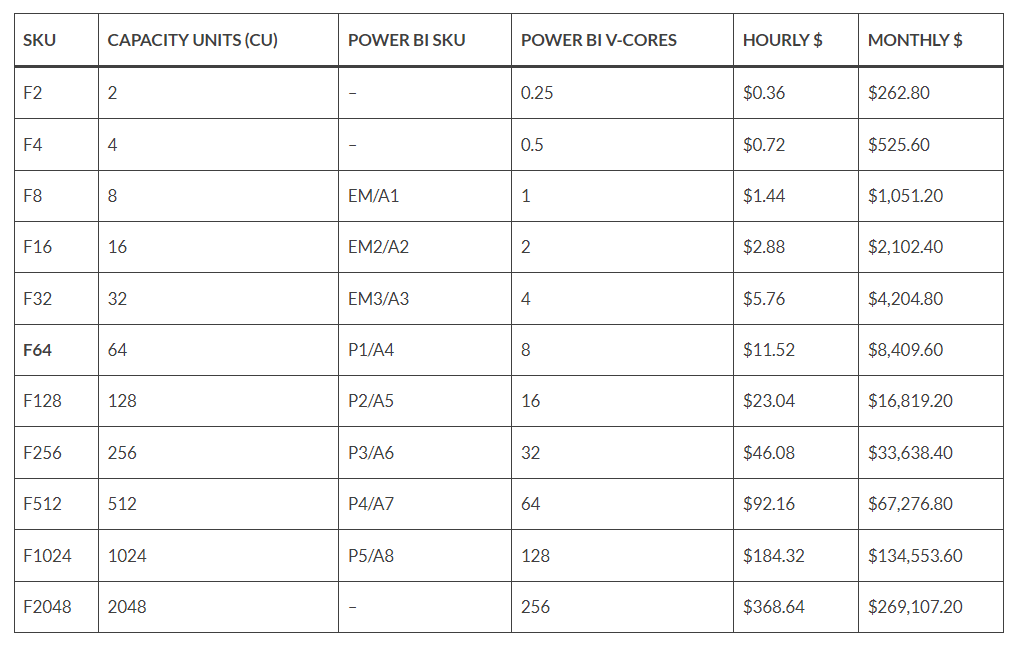 From the above table, you can understand How F SKU are equivalent to P SKU and get more understanding about how much V Core will be available for each of the F SKU. The computational power available for each SKU is measured in Capacity Units (CU).
F64 and above F SKU are equivalent to Premium licenses that will allow free Power BI License users to consume PBI content.
F SKU below F64 will require PPU or Pro license in order to consume the Power BI Content.
Currently, F SKU are available only at monthly contract. Reserve Instance with Yearly Contract will be available by the end of the year.
One Lake Storage
One Lake Storage will allow data to be placed at one place and that can be used for data engineering, data science and analytics purpose.
You will have to separately pay for the storage. The price of One Lake is comparable to that of ADLS (Azure Data Lake Storage). US West 2 storage, for example, costs $0.023 per GB per month.
If there is a requirement to transport data between regions, there may be additional charges.
Can we use Fabric with Power BI Licenses?
If you have shared capacity, having Free, Pro or PPU licenses then you cannot use fabric component.
If you have Premium P SKU`s then you can use fabric component and can share fabric component with the free users. You would still require PRO license for sharing the report.
If you have capacity less than F64 then you would require PRO, PPU license to share report and other fabric component with other users having the similar license and having reader role.
For Example, If you are using F2 Capacity then you would require PRO or PPU license for sharing the content.
If you have capacity greater than F64 then free users can see report and other fabric component.
You can go through the official Microsoft Documentation for Fabric Licenses here.