Which is the best Power BI Course on Udemy?
Microsoft Power BI has gained immense popularity among the business intelligence tools category due to its features and leveraging the Microsoft Ecosystem and has been ranking at the first positions for multiple consecutive years in Gartner`s Magic Quadrant for Analytics and Business Intelligence Platform.
Due to the increased popularity and its application in the Industry, there has been a huge demand for skilled Power BI Developers that have generated interest among computer science graduates. Even people from economics, finance, and other business fields are learning Power BI for leveraging their domain knowledge in analytics.
If you are interested in learning about Microsoft Power BI then I would recommend you to take a course on Udemy and gain some basic knowledge on Power BI.
The next step would be to practice DAX and features available in Power BI for that you can help in solving the problems mentioned in the Microsoft Power BI Community.
I have mentioned some of the Power BI courses that you can take on Udemy.
1# 15 days of Power BI – Complete Microsoft Power BI Bootcamp
The main reason for keeping this course at the number 1 position is because the course has been delivered keeping practical activities and implementation as it`s the main focus as it is a boot camp and always it is better to choose a Bootcamp course than a theory course because we human learn by doing things.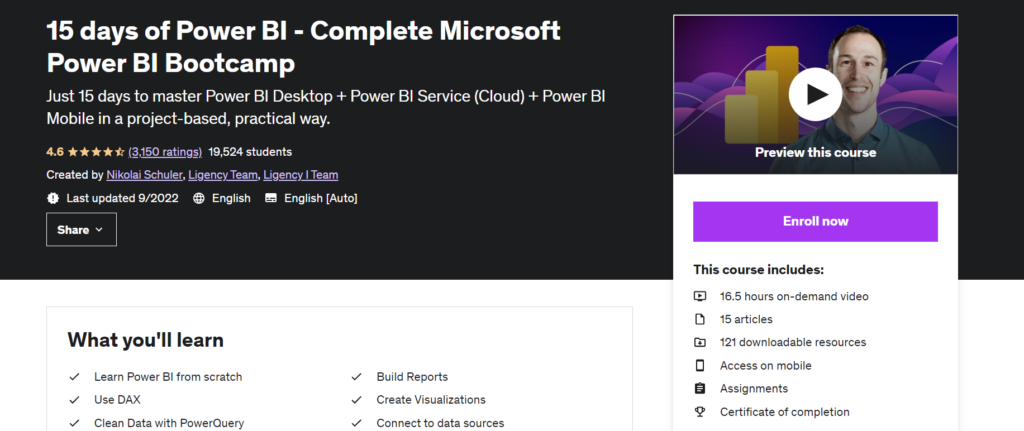 Why you should choose this Course?
Practical Content – When you use a tool yourself, build reports, and apply features available in the Power BI boost your confidence.
Excessive download material
Covers all the important topics that are essential to know when you are working in Power BI.
Even covers advanced topics such as how to use R language and Python in Power BI.
Covers advanced topics such as parameters and functions and also explains its use case which will help to better understand these features.
Provided a separate section for explaining M language.
I have taken this course and other courses as well on Power BI in Udemy and I would say that this is the best course as it covers a wide range of topics that are usually skipped by other courses.
Also, as this course is presented as boot camp it is more beneficial for students as they will learn by doing things and not just remembering.
Who should take this Course?
I recommend this course to folks who already have some knowledge of Python, R script, DAX, Database, etc. Basically, all the IT folks should take this course because the author has covered all the topics in sufficient depth and has also covered some advanced topics such as Python and R Script, AI Visuals, and Predictive modeling.
Non-CS students can also take this course if they do not have a prior understanding of python or R languages they can skip the advanced section and complete the rest of the section in the course.
2# Microsoft Power BI Desktop for Business Intelligence
This course is launched by Chris Dutton, Founder of Maven Analytics. Maven Analytics is known for its great training program offerings for individuals and teams. It also launched various Power BI Challenges from time to time which is very popular among the analytics folks.

Chris has explained topics in an extremely easy manner and has also provided assignments at the end of each section which helps the student to get a practical understanding of the topic.
Why should you take this Course?
Easy to understand. The author has their own training academy and has good experience in teaching topics in an easy manner.
A beginner-level course covering all the important topics of Power BI.
A good number of assignments in each section help in understanding the topic in a practical manner.
Who should take this Course?
I would recommend this course to a Non-Computer Science background such as Finance, Economics so that they learn the essential topics in Power BI without worrying about the advanced topics because when required they can learn advanced topics from other online courses.
3# Power BI DAX Masterclass
You can not unleash the full potential of Power BI unless you know the DAX language. It is the main language using which you can create calculated columns and measures which are most of the time essential to be created to fulfill the client's requirement.
The reason I chose this course is that I like the way, Nikolai Schuler structured the content and also explains the topic in an easy manner. I highly recommend serious Power BI aspirants to take this course.

Why you should take this course?
Well Structured Course
Easy to Understand
Sufficient Practical Exercises after each section helps to reinforce your learning.
Covers all the important DAX Functions.
Explains the operation of each of the DAX function.
Who should take this Course?
Technical, as well as Non Technical resources, should take this course because without understanding DAX you cannot show some of the important KPIs and also cannot work in an efficient manner.
4# Advanced DAX for Microsoft Power BI Desktop
This is another great and in-depth course from Maven Analytics that covers how the DAX function gets executed by the vertipaq engine in a separate section. Also, it has a separate section that covers DAX performance tuning.

Also, it covers all the important DAX functions that are required for creating the measures and calculated columns.
Why you should take this course?
The course explains how functions are actually executed by Vertipaq Engine.
The course has a dedicated section on DAX Performance Tuning.
You will also get to learn about DAX Studio in brief.
Relationship DAX functions are covered in this course which is not present in any other course.
Who should take this course?
All the Power BI aspirants can take this course. It does not matter whether you are from the computer science stream or from the finance stream.
5# Microsoft Power BI – Up & Running With Power BI Service 2021
It is very important to understand Power BI Service because once you have designed and developed your report, you will have to publish the report and share it with the users.

I believe this is the only course available on Udemy that will explain the Power BI Service features in detail.
Why you should take this course?
It is important to know about the Power BI Service. It is very important to know about various ways using which you can share your report with the users.
Explains various Power BI Licenses.
Admin roles, tenant settings, custom branding, etc.
Static vs. dynamic RLS, testing roles, etc.
User roles, apps, publish to the web, usage reports, etc.
Who should take this course?
Every Power BI aspirant should take this course.
Conclusion
When I started writing this article, I wanted to provide very few courses which will cover all the topics of Power BI but later on, checking I found that every course instructor has designed the course emphasizing particular topics more and has not covered all the topics in the course thus it is important to take multiple courses learn Power BI in depth.
Please let me know in the comment section if I have left any course that you feel is great and I must include in this list.